Free Sample Qualified Industrial Rare Earth Permanent Samarium Cobalt (SmCo) Magnet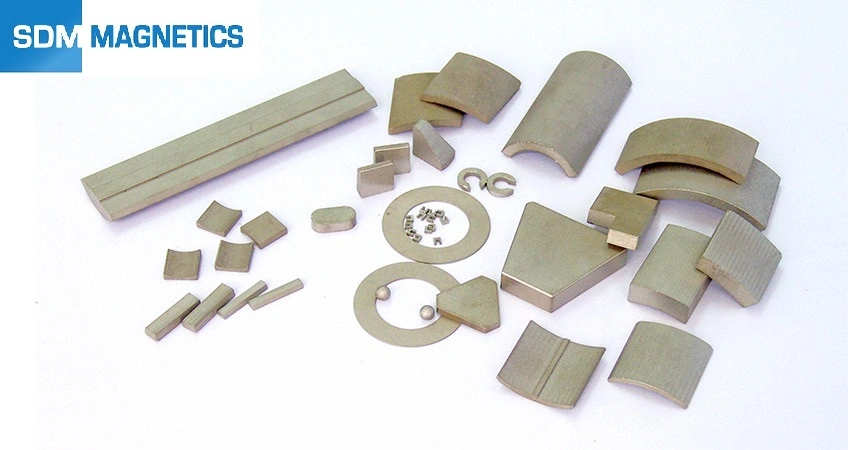 As the first commercially viable rare earth permanent magnet material, Samarium Cobalt (SmCo) is considered to still be the premium material for many high performance applications. Formulated in the 1960's, SmCo Magnet came as a revolutionary product, initially tripling the energy product of other materials available at the time.
SmCo Magnet come in energy products from 16 MGOe up to 33 MGOe.Their high resistance to demagnetizing influences and excellent thermal stability has ensured Sm-Co as the premium choice for the most demanding motor applications, turbo-machinery and traveling-wave tube. The change of flux density of SmCo magnet can be lower than 5% per 100 °C.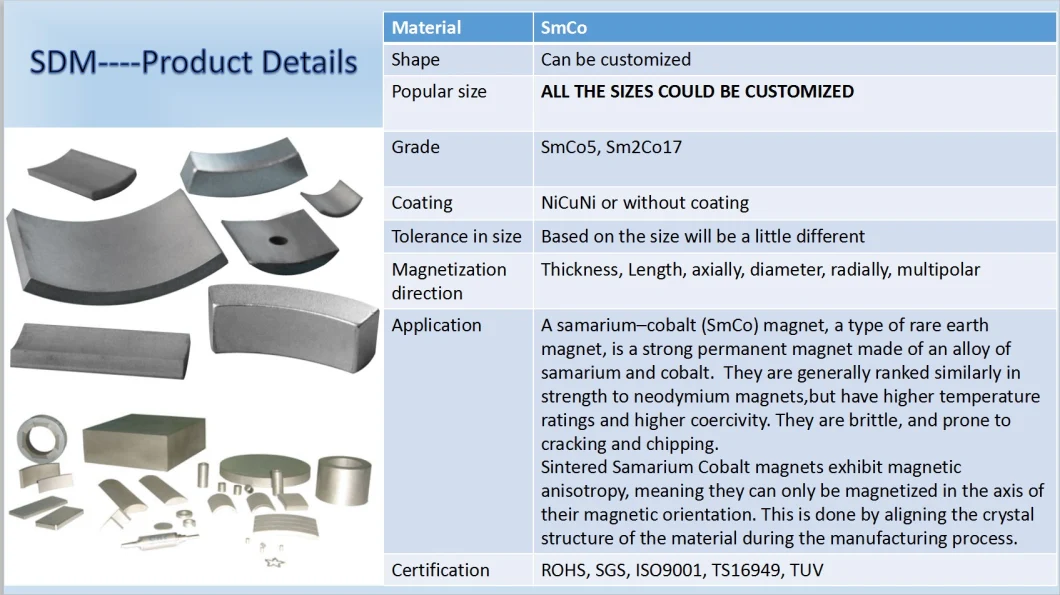 In addition, the corrosion resistance of SmCo Magnet is significantly higher than, for example, NdFeB. For most applications a coating or plating is not required. It is still recommended to coat the SmCo magnet in acidic and high moisture conditions. The corrosion resistance of SmCo Magnet has also offered a high degree of comfort to those looking to use magnets in medical applications. Coatings and metal platings can be applied to increase the ability to clean the magnet. A metal plating will allow for greater cleanliness for vacuum and medical applications. Nickel plating can be applied to fasciculate soldering the magnet and this is especially used for adhesion to a printed circuit board.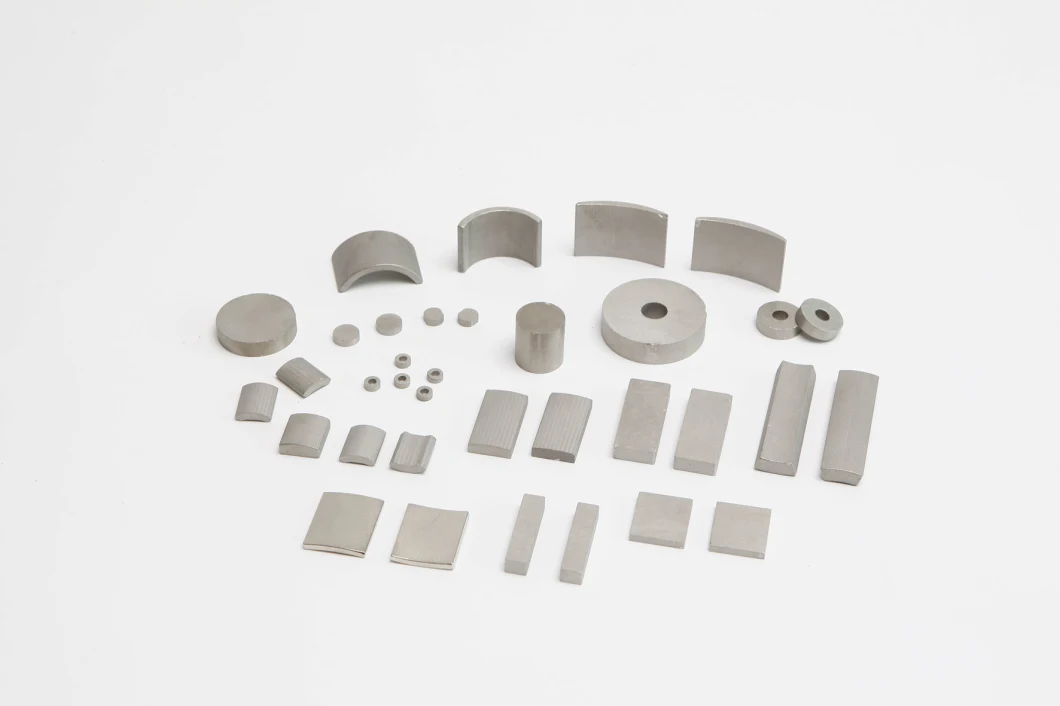 SDM Advantages
• Strategic cooperation with China's No.1 rare earth miner CHINALCO, which enables us strong and safe backup for rare earth raw materials cost stability, 3 x -3% annual price down guaranteed.
• ISO/TS 16949, VDA 6.3, ISO9001, ISO14001 certified company, RoHS, REACH, SGS, FDA complied product.
• 0 PPM performance for General Motor's OEM since 2010, remarkable customers such as SIEMENS, BMW, REGAL BELOIT, NIDEC, ELECTROLUX, S&T Motiv.
• Over 100 million neodymium magnets delivered to American, European, Asian and African countries.
• One stop service from R&D to mass production.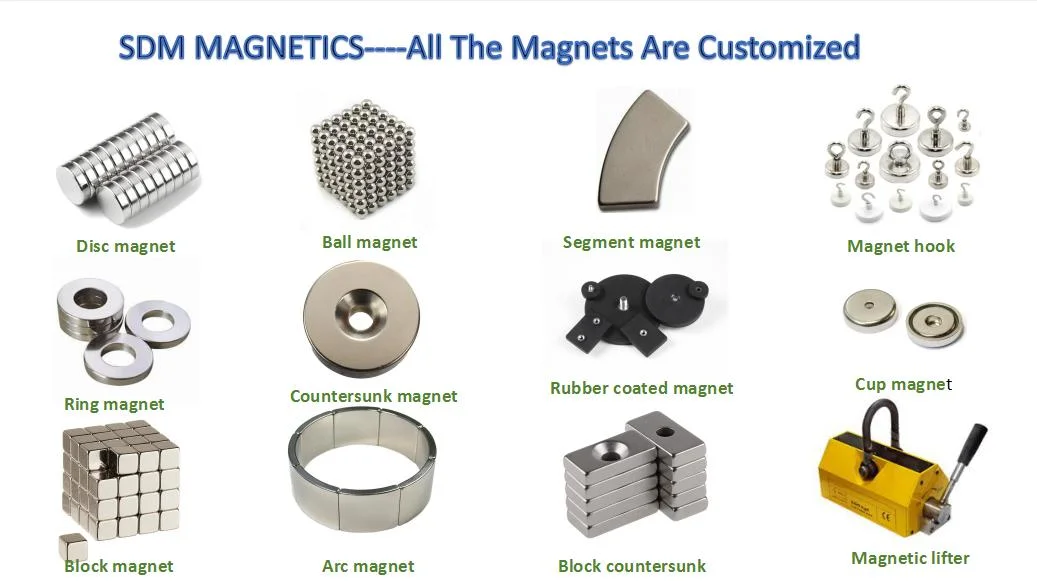 Quality Assurance
• ISO9001, ISO14001, ISO/TS16949, TUV, SGS, RoHS.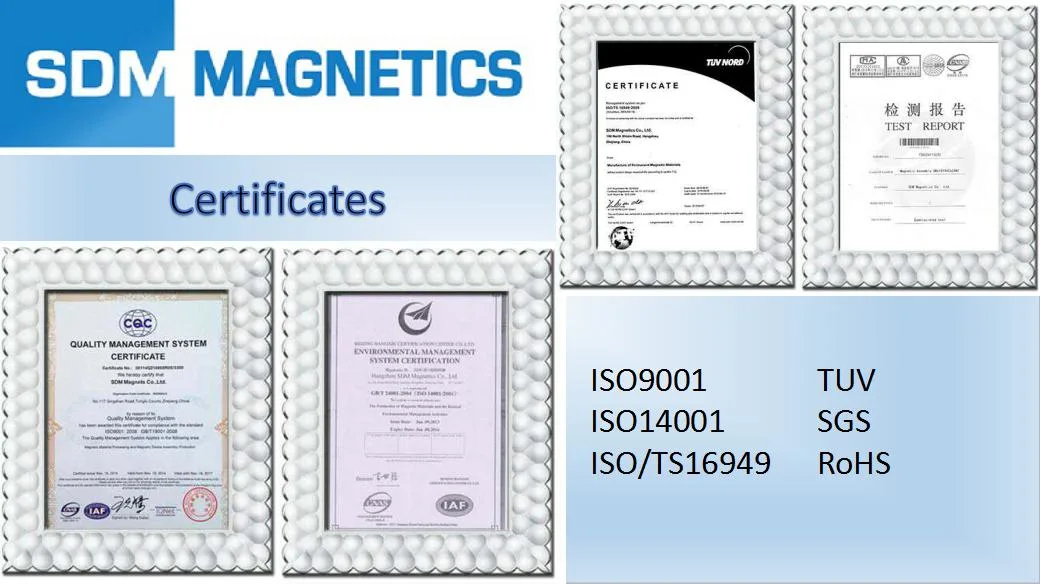 Customized Rare Earth Permanent SmCo/Neodymium Magnets and Rare Earth Permanent SmCo/Neodymium Magnetic Assemblies with fast delivery time of 7-15 days.

SDM Reliability & Workshop
• Demagnetization Curves & Outgoing Inspection Report for each shipment.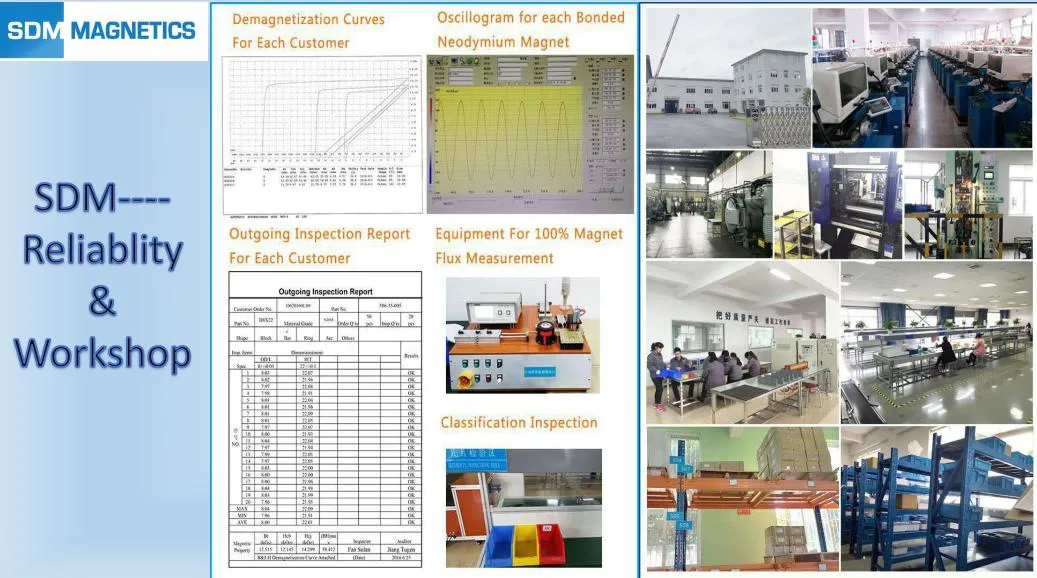 Standard Packaging
• Vacuum packaging for all Rare Earth Permanent SmCo/Neodymium magnets and Rare Earth Permanent SmCo/Neodymium magetic assemblies.
• Shielding box and wooden box to protect the Rare Earth Permanent SmCo/Neodymium magnets during shipping.
Shipping Methods
• Contract price with FedEx, DHL, UPS and TNT to minimum your shipping cost.
• Experienced shipping forwarder for Ocean and Air shipments.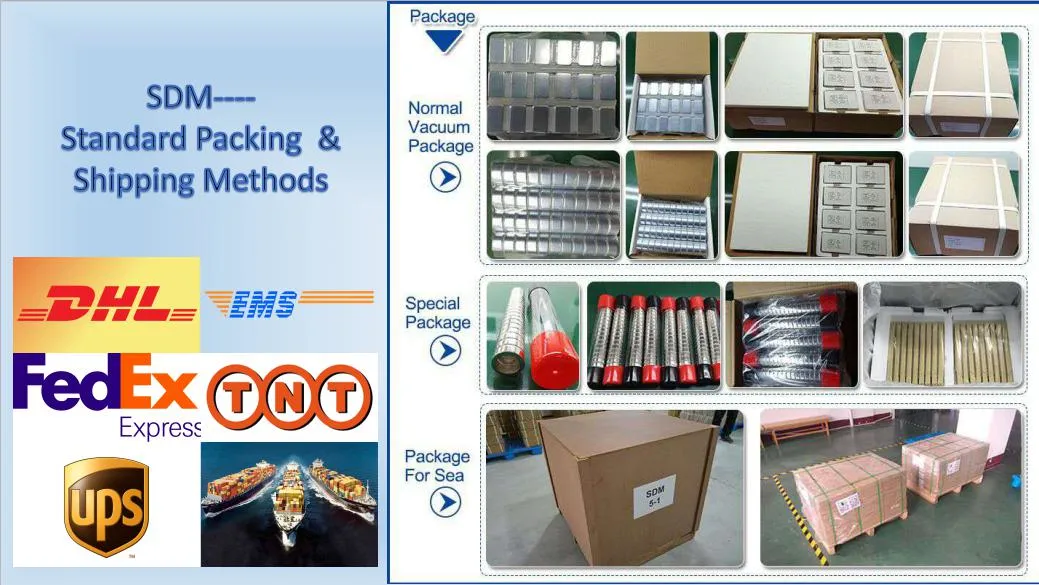 Exhibitions
• CWIEME BERLIN every year, Germany.
• HANNOVER MESSE every year, Germany.
• CWIEME CHICAGO every year, USA.
You are more than welcome to visit us at above exhibitions every year, we look forward to a face to face meeting with you.

Flexible Payment
We accept T/T, Paypal, Western Union, ESCROW and L/C.

Company Information
SDM Magnetics Co., Ltd. is a leading Chinese manufacturer of high performance permanent magnets and magnetic assemblies with ISO9001:2008, ISO/TS 16949 and ISO14001 certificates. SDM serves a variety of markets from consumer electronics, industrial automation, automotive, green energy, household appliances, medical, aerospace and telecommunications. SDM's magnets are used in motors, speakers, generators, sensors, compressors, MRI, magnetic chucks and separators etc.
To meet the more and more demanding markets, SDM has been concentrating on manufacturing technologies for quality stability and cost reduction. Since 2010 the company has been supplying magnets to General Motors' OEM with 0 PPM. With Dysprosium infiltration technology, we are able to offer competitive prices for high grade Neodymium magnets. The company has also built up a strategic cooperation with China's No.1 rare earth miner CHINALCO, which gives us strong and safe backup for rare earth raw materials.
SDM Magnetics now manufactures a comprehensive range of magnetic products including:
·Neodymium Magnet
·Injection Molding Magnets
·Samarium Cobalt
·AlNiCo (Aluminum Nickel Cobalt)
·Magnetic Assemblies
Over the last ten years SDM export 85% of its products to American, European, Asian and African countries.With such wide range of magnetic material options, our professional technicians are available to help solve your magnetic needs and choose the most cost effective material for you.

How to Find us ?
Our manufacturing plants are located in Tonglu, Hangzhou which are only one hour by car from Hangzhou airport or railway station.
We are also only one hour by train from Shanghai or Ningbo, pickup and drop off at Hangzhou Air/Train stations are available if you are traveling to Hangzhou from other cities in China.

FAQ
1:How long will you give me the reply?
we will contact you in 12 hours as soon as we can.
2:Could I get samples?
Yes,we have materials in stock to help you to get the samples as soon as we can.
3:How about the quality of the magnets?
We have the certification of ISO,TS and ROSH,we could send the certification test of our company to you.
4:How is the price?
As we believe the quality is the most important,we will provide the best quality magnet we can with reasonable price.
5:Could you provide me the shortest lead time?
We have materials in our stock,if you really need,you can tell us and we will try our best to satisfy you.
6:Could I visit your factory?
Of course,if you need we will help you to visit our factory.
7:If I have paid,when will you help me to produce?
When we have received the money in our account,we will give you the receipt and arrange to produce immediately.