Custom Printing Credit Card Protector RFID Blocking Card

Good News!!! RFID Blocking Card with Chip Coming
1. 1pcs can block 29pcs bank or credit card and whole wallet
2. 0.9mm, 1.5mm thickness for optional
3. CE certification
4. Customized Colorful Pre-printing, and individual package
Welcome to consult us for sample testing
These specially-designed cards help prevent thieves from stealing your personal information with RFID scanners.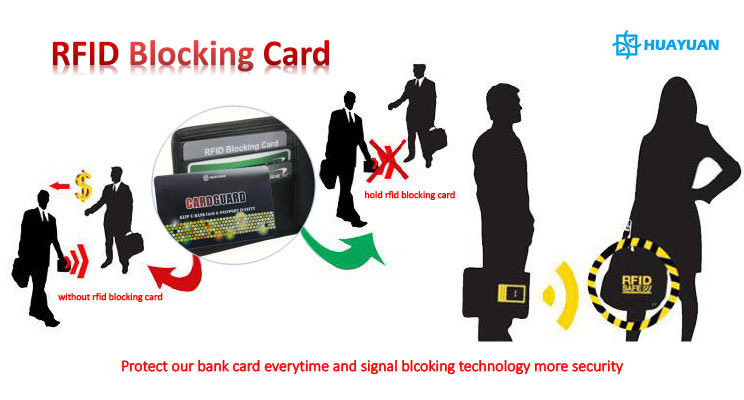 RFID chips are growing in popularity as the technology spreads across multiple industries. For consumers, this technology is embedded in credit cards, identification cards, passports, and more.
This is great for convenience.
But not so great when low-life criminals have a scanner...
Fortunately, there is a very simple way to keep your identity and information: The HUAYUAN RFID Blocking Card
Simply place one card in your wallet and all surrounding cards are protected
You need RFID Blocking Cards if your credit card has the below chip or symbol on the front

Specifications of RFID Blocking Cards
Item

RFID Blocking Card

Material

PVC

Dimension

For Cards: CR80 (86*54mm), or customized

For Passport: 122*82mm, or customized

Thickness

0.55mm, 0.76mm, 0.9mm, 1mm or customized

Printing

CMYK Offset Printing

Card Surface Crafts

UV Printing, Matte Surface, Golden Surface

Packing

Individual Packing / Double Card/ Promotion Value Pack/ 200pcs per box, or customized

Certification

CE

Applications

Protecting RFID part by stack Card Guard attached Any RFID or Dual interface Card From any Skimming or snooper, prohibit Chip of Contactless Card be Readout.
How to use the RFID blocking cards?
Simply add Scanner Guard Cards into a wallet, credit card holder, or clip as shown in the pictures below to block all unwanted RFID Scanners.

Any card working on 13.56MHz frequency. This includes, but is not limited to:
Credit Cards

Debit Cards

Identification Cards

Passports

Mobile Phone NFC

Key Cards/Entry Cards
How does the Scanner Guard Card Work?
The Scanner Guard Card is composed of a mixture of metals that disrupt a scanner from reading the RFID signals. There are outside and inside coatings of our pending metal mixture for the protection of RFID personal information. This coating is not rigid, so the card is very flexible and only half the thickness of a credit card so it will not add bulk to your wallet.
Customized Crafts for RFID Blocking Card



Applicable promotional package, Custom retail package for optional
Packing optional: Card pack, Blister Packaging, Clear OPP bag + 40*80mm barcode, Clear OPP bag, Promotion Value Pack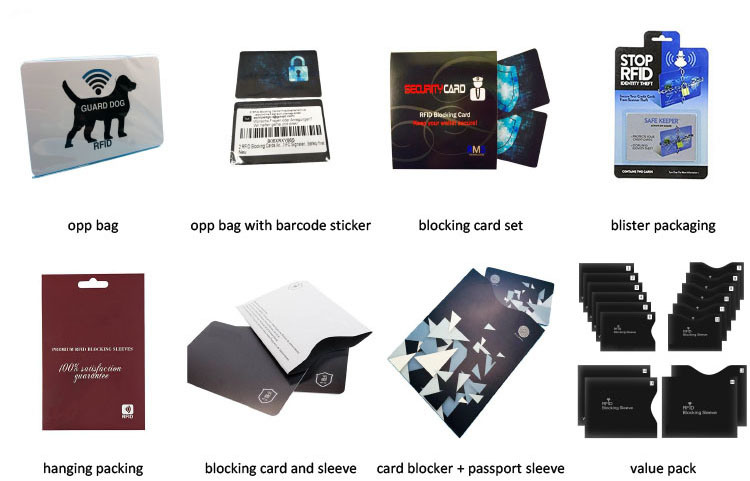 Related RFID Blocking Product


Why Choose HUAYUAN RFID Blocking Card?
1 Self-developed a design for Radiofrequency signal blocking
2 Secure protection 3-5 pieces bank card attached
3 Customized Colorful Pre-printing, and individual package
4 Alternative thickness (0.55mm,0.76mm, 1mm) and additional craft acceptable
5 CE certification for RFID Blocking Card
6 Fast delivery

Dear, for more information on RFID Blocking Card, please feel free to contact us.